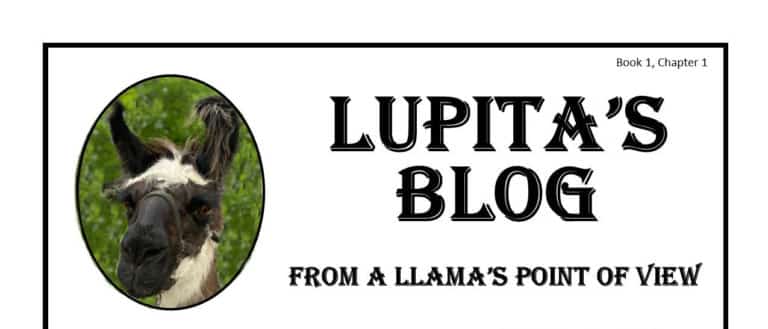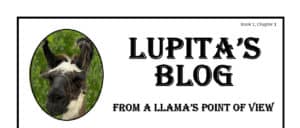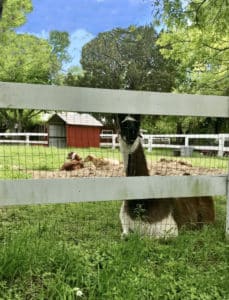 So here I am… social distancing… sheltering in place
as they call it, in Glen Rose, TX at Country Woods Inn.
As you can see in the picture on the right, two of the
goats behind me do NOT know what social distancing
means! I know it's hard for all of us, but it's only for a short time.
I arrived at my new home in Glen Rose a couple of weeks
ago. The signs says Country Woods Inn. I wasn't sure what
to think at first as I'm the only LLAMA here, but I'm
starting to adopt the goats and sheep as my own herd.
The wide open spaces and lush green grass are definite bonuses!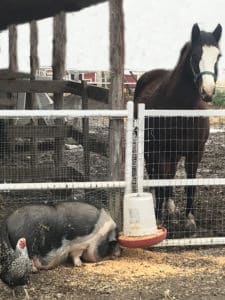 At first, they put me in a pen next to a horse and two pigs.
Let me tell you… that horse they call Tomcat really didn't
know what to think of me. He stared at me in complete
confusion for 3 days… and the pigs, they are smart but
strange. They grunt a lot and boy do they love feeding time!
There seems to be a lot of kids that come here with
their families. Llamas love FAMILY so watching them
laugh and talk around the campfire makes me so happy
that I find myself humming at times!
I hope you all get back to traveling soon and come
introduce yourself. Remember, when you're on the farm,
the grass is green, the skies are starry and the fresh
air clears your mind. Come shelter with me…
                                                                                                          Love, Lupita the Llama