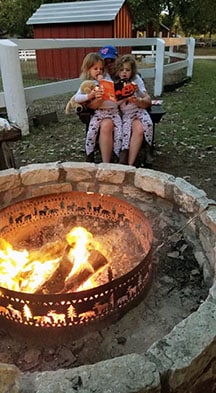 One of our favorite things to see here at Country Woods Inn are
families gathered around a campfire. It's a magical time!
It's not just the crackling of the fire in the dark or the smell of
delicious s'mores and hot dogs being roasted.
It's the sound of laughter from people of every generation
rediscovering one another. Grandchildren learning more about
their ancestors while grandparents enjoy cuddling
little ones in their lap.
Brothers and sisters reminiscing about their own childhood vacations.
Moms and dads watching their children's eyes light up
at the sight of the moon and stars overhead.
Magic happens around a campfire. Relationships are renewed.
Songs are sung. Hearts are made happy and at peace.
And families feel closer than they have in a long time.
CAMPFIRE FUN 101
Sing songs
Tell stories
Look for falling stars
Roast s'mores and hot dogs
Catch lightning bugs
Listen for sounds of nature
Enjoy a mug of hot chocolate
Share favorite family memories