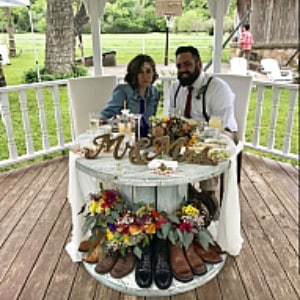 Ever wonder what goes on at Country Woods Inn? We thought we'd share about a fantastic week we enjoyed here recently. We started the week on Friday! An amazing full property wedding that included white tents, wine and wontons, a taco food truck, a photo bus, elaborate oversize wooden lawn games including a bowling alley, 35 square hay bales, colored smoke and even a thunderstorm that caused a power outage for an hour and a half right in the middle of hair and makeup before the wedding! It was unbelievably lovely and one of the most spectacular weddings we have ever had here!
Next up, Sunday, just as we finished making beds and sweeping floors, as the wedding pulled away, the family reunion pulled in! A very special family that has been coming to our property for many years returned to make more family memories. It was a beautiful day for kayaking down the river! We would love to host your family for an amazing reunion – call us for help in planning a memorable time together!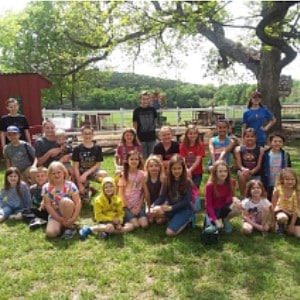 But wait, we weren't through! Thursday, our first ever group of Texas homeschoolers came to spend the day with us! From holding our 62 bunnies to picnicking on the ground, walking trails to Big Rocks Park wading, they thoroughly enjoyed every inch of our 40 acres of fun!
And last, but certainly not least, to finish off our week, we had one of our Indian Princess groups come to spend the weekend. Girls love to giggle and squeal and there was plenty of it! Our wonderful Kim took them on a scavenger hunt after breakfast in the Barn, then they all painted birdhouses on the barn patio! Several requests to take baby bunnies home, but dads said not this time : )
What kind of getaway are you in need of? A romantic retreat? Birthday bash with some girlfriends? Anniversary retreat in one of our Adventure Lodging options? Maybe you've been wanting to try some "glamping" near the river? We've got it all! Book direct online today or contact us anytime for more information.